DOCUMENTS
The Fenwicks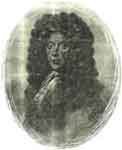 In 1650 the family was headed by Sir John Fenwick who lived at Wallington Hall and disposed of much of his property that year. There had been a Scottish invasion in 1649 which caused him considerable losses.
The Fenwicks have a long history as a border clan and, later, as gentry in Northumberland. They take their name from Fenwick in Northumberland, a place which means farm by the fen.
DOCUMENTS
Wallington Hall
In the sixteenth century, he fortified house at Wallington was described as the chiefest howse of the Fenwiks. The Fenwick house stood on the site of the present hall (constructed in 1689) and developed from a thirteenth century pele tower.
All that remains of it today are the cellars (where there are doorways hinged for heavy gates) narrow windows and a well that was used for water in times of defence.
The present hall was built in 1689 by Sir William Blackett after he purchased the house from Sir John Fenwick (3rd baronet, pictured above.) It is currently operated by the National Trust and open to the public.

Sir John Fenwick (1st baronet) sold much of the estate in 1650, and his grandson (also called John) sold Wallington in 1689.
DOCUMENTS
17th century baronets
Sir John Fenwick, 1st baronet b.1578 (1629–1658)
..born in 1578, he added greatly to the estate of Wallington, but in none too scrupulous a manner: he was described in 1617 as one of the greatest thieves in the county. He sat in the Short Parliament of 1623–4, and remained in Parliament until the Civil War.
Fenwick bought a baronetcy in 1629 and was appointed Charles I's Master of Horse. He was one of the first and most enthusiastic breeders who started the thoroughbred tradition in England.
A royalist in the Civil War, he was taken prisoner in 1644, but released and readmitted to Parliament in 1646. In 1650 he would have been 70 years old.
A reference on the back of the indenture (dated 1652) confirms the sale, and is signed William Fenwick. This is, perhaps, his son who succeeded him to the baronetcy.
Sir William Fenwick, 2nd baronet (1658–1676)

Sir John Fenwick, 3rd baronet b.1645 (1676–1697)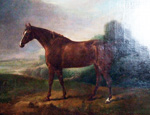 The 3rd baronet was a great favourite of Charles II after the Restoration, and continued the family tradition by being an advisor to the royal stables.
He was an enthusiastic breeder of horses, and a stretch of land running down to the Wansbeck is still called the Gallop after he had it levelled.
His extravagance forced him to sell Wallington to Sir William Blackett, a Newcastle merchant for £4,000, and a yearly annuity of £2,000.
A staunch Jacobite, Sir John Fenwick was beheaded for high treason for plotting against William III in 1697. Sir John's property and estate were confiscated by the king, who came into possession of Fenwick's horse called White Sorrel. The image above shows White Sorrel in a painting currently displayed at Wallington Hall.
This horse was later to throw the king from its saddle after it stumbled in a mole hill in the grounds of Hampton Court. Shortly afterwards William III died from his injuries. The horse had thus fulfilled the wishes of its original master.
home | allendale | bishopside | documents | family tree | fenwicks | history | reunion | visuals | 1650 deed